MORE INFO
111 E. WACKER DRIVE,
SUITE 1000
CHICAGO, IL 60601
(312) 836-5200
TDD: (866) 324-4431
HOURS: 8:30 a.m. – 5:00 p.m.
TWITTER
@ILHousing
Are you ready to meet with lenders, realtors, insurers and more at our Homebuyer Expo - Camino A Su Casa?

Join us June 1st at Malcolm X College from 10am to 3pm. Register to attend: https://t.co/X7ZZ7vLoLa

🏠Let's get you home!
Twitter feed video.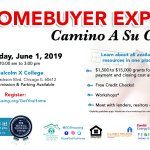 FACEBOOK
Illinois Housing
Development Authority
Have you or a loved one used of one of IHDA's down payment assistance, I-REFI, home repair, or foreclosure prevention programs to purchase, repair or save your home? We are looking to share your unique home story!

At IHDA, our mission is to finance the creation and preservation of affordable housing in Illinois and we believe your story can truly make the difference in helping others to learn about the benefits of our affordable housing programs.

If you are willing to share your IHDA story or know of someone who might be interested, please visit www.ihda.org/share-your-story and fill out our online questionnaire or complete the downloadable form and e-mail it to us at Impact@IHDA.org.

Thank you!

#IHDAStories #Inspire #Impact #Homebuyers #Homeowners #Share #Hope #Home #Help #HelpingHand ... See MoreSee Less
13 hours ago
© IHDA. ALL RIGHTS RESERVED.