MORE INFO
111 E. WACKER DRIVE,
SUITE 1000
CHICAGO, IL 60601
(312) 836-5200
TDD: (866) 324-4431
HOURS: 8:30 a.m. – 5:00 p.m.
TWITTER
@ILHousing
IHDA's Single Family Rehabilitation (SFR) Program helps provide assistance to homeowners to make critical home repairs which help ensure a safe and healthy home. Learn more about SFR on our website- https://t.co/TJBRzCkM12
#homeownership #repairs #helpingothers #help #impact
Twitter feed video.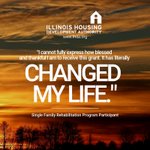 FACEBOOK
Illinois Housing
Development Authority
Homeowners whose properties have fallen into disrepair may qualify for assistance to improve the health and safety of their homes. Administered by IHDA, the Single Family Rehabilitation Program (SFR) provides grants to units of local government and community based organizations to help income-eligible homeowners make costly home repairs they would have otherwise been unable to afford.

The impact of SFR has helped change people's lives. It has allowed families to address necessary repairs and safely remain in their homes. You can learn more about the Single Family Rehabilitation Program on our website at www.ihda.org/my-community/revitalization-programs/.

#Home #homeowner #homeownership #repairs #revitalization #affordablehousing #helpingothers #help #costs #rehabilitation #assistance #impact ... See MoreSee Less
4 hours ago
© IHDA. ALL RIGHTS RESERVED.