MORE INFO
111 E. WACKER DRIVE,
SUITE 1000
CHICAGO, IL 60601
(312) 836-5200
TDD: (866) 324-4431
HOURS: 8:30 a.m. – 5:00 p.m.
TWITTER
@ILHousing
Through our IHDA Mortgage homebuyer programs, we help more people each day throughout Illinois achieve the dream of homeownership. Learn how our programs can help you to purchase a home this year with up to $10,000 in down payment assistance! https://t.co/01rrpFWVnt
#mortgage
Twitter feed video.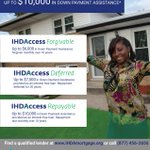 FACEBOOK
Illinois Housing
Development Authority
Are you looking to purchase a home this year? With up to $10,000 in down payment assistance available, our IHDA Mortgage Access and 1stHomeIlliniois programs can help!

We work with more than 165 lenders across the state to provide access to financing programs that help customers get into homes they otherwise might not afford. Last year alone, more than $740 million was loaned to more than 5,500 families to purchase a home. In 2019, we want to help make your homeownership dreams become a reality!

Get on the path to homeownership and learn more about our IHDA Mortgage programs today. www.ihdamortgage.org/homebuyers

#Mortgage #Homebyer #downpayment #assistance ... See MoreSee Less
19 hours ago
Yup. I am known as the IHDA king in my office. Cehinger@ccmclending.com
© IHDA. ALL RIGHTS RESERVED.