MORE INFO
111 E. WACKER DRIVE,
SUITE 1000
CHICAGO, IL 60601
(312) 836-5200
TDD: (866) 324-4431
HOURS: 8:30 a.m. – 5:00 p.m.
TWITTER
@ILHousing
Congratulations to first-time homebuyer, Deborah Crawley! By using IHDA Mortgage's 1stHomeIllinois program, she received $7,500 in assistance towards the purchase of her new home!
https://t.co/hOmkSaWzmd
#mortgage #lending #Realtor #realestate #homesweethome #FirstTimeHomeBuyers
Twitter feed video.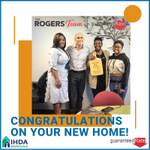 FACEBOOK
Illinois Housing
Development Authority
Congratulations to Deborah Crawley on becoming a first-time homebuyer! Debrorah took advantage of IHDA Mortgage's 1stHomeIllinois Program and received $7,500 in down payment assistance to help her homeownership dreams become a reality!

Deborah had a fantastic team guiding her through the homebuyer process including Dan Rogers at Guaranteed Rate and #TheRogersTeam, Kenyata Walters Real Estate Broker with Exit Strategy Realty and Jorge Vega - New Avenue Realty.

If you're ready to begin your homeownership journey, see how IHDA Mortgage can help! Learn more at IHDAMortgage.org/homebuyers.

#homebuyer #realestate #realtor #realestateagent #home #firsttimehomebuyer #homesweethome #mortgage #assistance #dreamhome #newhome #lender #renters ... See MoreSee Less
11 hours ago
© IHDA. ALL RIGHTS RESERVED.