MORE INFO
111 E. WACKER DRIVE,
SUITE 1000
CHICAGO, IL 60601
(312) 836-5200
TDD: (866) 324-4431
HOURS: 8:30 a.m. – 5:00 p.m.
TWITTER
@ILHousing
The home modifications and repairs funded through the Home Accessibility Program can help provide income eligible seniors and persons with disabilities with disabilities the opportunity the chance for a healthy, active life.
For program info, please visit- https://t.co/TJBRzC3b9u
Twitter feed video.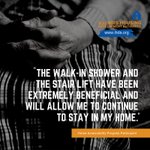 FACEBOOK
Illinois Housing
Development Authority
Are you or a loved one in need of home accessibility improvements? We want to help you make needed repairs that can help you to continue to stay in your home. The Home Accessibility Program (HAP) provides up to $25,000 to help seniors and persons with disabilities make repairs and modifications that improve accessibility and safety.

One resident from Maywood who recently received assistance, was kind enough to share her experience with HAP - "The walk-in shower and stair lift have been extremely beneficial and will allow me to continue to stay in my home."

For more information or to see if you are eligible for the Home Accessibility Program, please visit our website - www.ihda.org/my-community/revitalization-programs/

#Housing #Homeowners #Home #Accessibility #Assistance #Impact #HelpingHand #Help #AffordableHousing ... See MoreSee Less
4 hours ago
© IHDA. ALL RIGHTS RESERVED.